GULFPORT, Miss. -

On Sunday

, the U.S. Department of Homeland Security (DHS) U.S. Immigration and Customs Enforcement (ICE)-led Gulf Coast Border Enforcement Security

Taskforce

(BEST) reported the arrest of three individuals and the seizure of a sailing vessel and approximately 4,500 pounds of marijuana on the

Mississippi Sound south

of

Bay St. Louis, Miss

.
U.S. Customs and Border Protection's (CBP) Air and Marine assets located the sailing vessel, "Sarah Moira," an 80 foot steel hull sailboat sailing from the Caribbean into the Gulfport area. BEST assets maintained surveillance until it was boarded by BEST

task force members

. The task force members who participated in the operation included the ICE

Office of Homeland Security Investigations

(HSI); CBP's Air & Marine Operations, Office of

Border Patrol

, and Office of Field Operation; the

U.S. Coast Guard

(

USCG

); and the Harrison County (Mississippi) Sherriff's Office. The boarding revealed two large wooden containers in the forward hold of the vessel containing contraband, weighing approximately 4,500 pounds. The three individuals aboard the vessel were taken into custody and the vessel was brought to the USCG Station in Gulfport, Miss., where the task force worked in a combined effort to offload the seized contraband.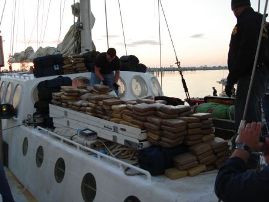 "Sunday's arrests clearly show how the extensive cooperation of all members of the Gulf Coast BEST can bring to justice a criminal organization that was transporting illegal drugs into the United States," said Raymond R. Parmer, Jr.,

special agent

in charge of ICE HSI in New Orleans. "This organization was reaping profits by bringing these drugs into the country and distributing them to our communities. ICE and our BEST partners are dedicated to targeting and dismantling criminal organizations that endanger public safety."
The Gulf Coast

BEST is a DHS initiative established in New Orleans, Gulfport and Mobile, Ala., that is designed as a multi-agency response to address national security and other law enforcement concerns affecting the Gulf Coast. It is comprised of ICE HSI, CBP, Transportation Security Administration (TSA), U.S. Coast Guard,

Internal Revenue Service

, and several state and local

law enforcement agencies

from Louisiana, Mississippi and Alabama. BEST members are co-located so that they can effectively share information. Close coordination among federal, state and local law enforcement agencies helps to identify and eliminate cross-border criminal organizations such as alien and

drug smuggling

networks and the infrastructures that sustain them.
This seizure highlights the success of the Gulf Coast BEST and its commitment to identify, disrupt and dismantle dangerous transnational crime which threatens the United States.